Fracino founder 'Oracle of Espresso' Lifetime Achievement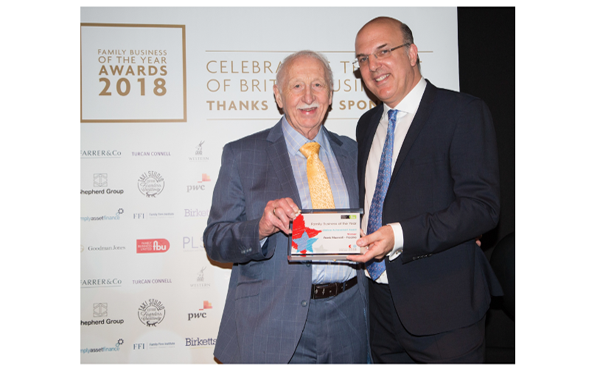 'Oracle of espresso' scoops lifetime achievement accolade
Tea & Coffee World Cup exhibitor Fracino's founder and chairman, Frank Maxwell, who pioneered the production of espresso machines in the UK – has been selected from 14 worthy finalists for a prestigious Lifetime Achievement Award.
Launching Fracino in 1963 after stripping down a coffee machine bought on a family holiday in Italy, Frank received the honour from The Family Business of the Year Awards which celebrate and acknowledge the significant contribution that family firms make to the UK economy.
Forced to self-fund the company after a bank refused to lend him £300, Frank has been pivotal in Fracino's growth to a global manufacturer whose world-class espresso machines are commissioned by global giants including SUBWAY®, PizzaExpress, Costa Coffee and Patisserie Valerie.
The third generation family business which employs over 70 people has revolutionized its 45,000 sq ft manufacturing facility through a multi-million pound investment programme, with eighty five per cent of components fabricated in-house.
Paul Andrews, founder and MD of Family Business United which launched the awards in 2011, said: "The shortlists for all categories were impressive and Frank was up against some stiff competition for this inaugural title. His vision, tenacity and commercial acumen in shaping the coffee shop boom and succeeding where others around him failed is impressive and inspirational."
Producing 12 new machines across 2011-2018, Fracino champions British manufacturing craftsmanship and is a proud member of Made in Britain – displaying a Union Jack flag on every machine that leaves the factory.
Said Frank 82, who continues to contribute to Fracino's growth strategy: "I am honoured and humbled to receive this coveted accolade. I am also immensely proud that the business I launched in a garden shed five and a half decades ago now operates one of the world's most advanced and efficient espresso equipment manufacturing facilities and exports to over 70 countries."
Family Business United is the award-winning magazine and resource centre for the UK family business sector.
About Fracino  
Stand F01
Established in 1963, the family owned and run business is home to three generations of the Maxwell family. Founder Frank is the company's chairman; his son Adrian is the MD, and his daughter Rebecca is the service support manager.
The multi award-winning company, named Business of the Year in the 2017 Birmingham Awards, began when Birmingham engineer Frank Maxwell started making coffee machines in his garden shed.
Fracino is the UK's sole manufacturer of cappuccino and espresso machines – a market traditionally dominated by Italian and Spanish manufacturers.
The team sells thousands of machines every year to customers including Subway®, PizzaExpress, Patisserie Valerie, Living Ventures Restaurant Group, AMT Coffee and Pathfinder pub chains.
Fracino has achieved double-digit sales growth almost every year since 2009 and exports to over 70 countries worldwide.
The company's portfolio includes a range of coffee machines including the fully automatic bean-to-cup Cybercino machine, hand fill compact machines and a range of traditional espresso machines. It also extends to coffee grinders, dishwashers, glass washers, ice machines a coffee roaster and range of water boilers.
Related content